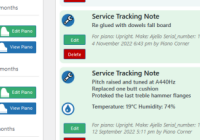 The NZ agency Graphic Detail used WordPress to re-build a website for William and Christina at Piano Corner, who tune, service and repair pianos in the Auckland area. As an additional project, we developed a WordPress plugin to help them manage their work. It keeps the details of over 1500 pianos and clients, along with the history of work done.
Pianos are generally best if re-tuned on a consistent basis, and this software helps with managing that. It remembers the last date of tuning form the notes, and also allows you to configure a tuning interval. It then automatically sends an email reminder to the owner.
Estimates for work can be assembled, by picking standard work items from our tars list. The estimate can be customised then re-created a PDF and emailed to the customer. All done directly from the WordPress plugin.
This was good experience for me to learn a lot about developing the WordPress backend; especially using wp_list_table to present bulk data for six different types. Each one needed a slightly different set of tricks to coax the best behaviour out of hiding.