In 2021, the design agency Graphic Detail found me on this site when needing a PHP/SQL WordPress wallah for a new plugin. Their client was a recycling company who already had a WordPress website, and were extending their business offering a service to buy expended catalytic converters. The scrap value of a converter price varies hugely depending on the converter type and its overall condition, so the new plugin needed to collect details from the customer about the converter (car model and converter serial number), and contact details. It allowed uploading of photographs, essential for evaluating the material condition.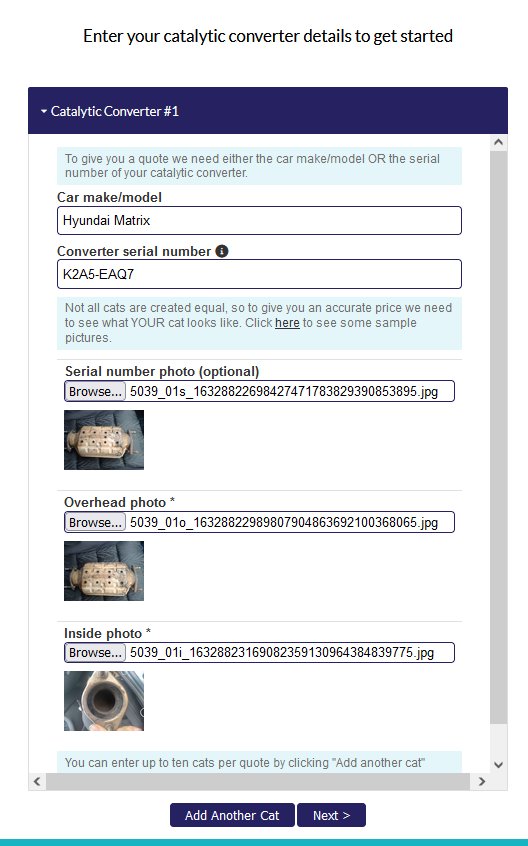 To cater for business submissions, the plugin allowed up to 10 converters in the one form. It was easy enough to apply the JQuery UI Accordion widget for this. I must admit, it scrambled my brain a bit to cope with the combinations of validating optional and mandatory inputs, disallowing a new accordion panel unless its predecessors were sufficient. And then what happened if the user back tracked and undid inputs? Somehow I got this sorted.
Each submission was passed through to the client team via API calls to SalesForce CRM. In my modest experience, APIs take a bit of experimenting to get working, but this one went fine immediately.
After several weeks of operation, one curve-ball appeared. The queue in Salesforce occasionally got halted by an unexpected file attachments of ".heic". I jumped to the conclusion that some mischief maker was trying to break the system with a code exploit, but this was my ignorance. In fact, heic files are "High Efficiency Image" format, largely from the Apple direction, and yet to take centre stage in the web. Legitimate files, and none of my image packages could even view them, so what could I do? Happily, the unsung heroes of Stack Overflow came to my rescue, as has happened countless times before: Php code to convert heic to jpgs. Worked immediately.
2021